Choose an organization based in Pittsburgh having a kiosk and digital application, and conceive plausible scenarios that demonstrate novel interactions between human(s) and the organization's virtual agent.
Hugo - An intelligent voice assistant for the United States Postal Service that personalizes and expedites users' postal experience.
Anupriya Gupta, Greg Chen, Jamie Choi, Laura Pedrosa
Conceptualization, Conversation Design, Motion, Interface Design
7 Weeks, CMU Interaction Design Studio Fall 2021
Figma, Adobe After Effects, Adobe Premiere Pro, ProtoPie, Voiceflow
Concept Scenario with Hugo
Here is a quick glimpse of our solution Hugo, outlined with a scenario of Jane using USPS postal services. Note that, while the scenario in the concept video shows only voice-based interaction (for the sake of project requirements), the user interface and interactions are defined for multi-modality, where users can perform actions using touch as well as voice.
United States Postal Service
USPS is an independent agency of the executive branch of the United States federal government responsible for providing postal service in the United States. It is the only delivery service that reaches every address in the nation— 160 million residences, businesses and Post Office Boxes. While the service largely operates via post officers, there are 2,732 self-service kiosks across the US which accounted for $343 million dollars in revenue in 2020. Source
We chose USPS as our client because of its emotional connection to the people. USPS is one of the most trusted and valued service to the American Public. Using a postal service is considered a mundane and often cumbersome task wherein there is an opportunity to make it efficient and fun. Further, because of the persistent COVID pandemic situation during the project, there was an inherent push to reduce human contact, and thus the increasing need for self-service kiosks.
Understanding Brand Identity
We started by understanding the current USPS identity in terms of its physical and digital assets. We found that USPS has a strong identity with its eagle logo and blue and red colors. We drew inspiration from its simple, clear, and bold style to inform our design and understood the inconsistencies across different platforms.
We conducted primary research in the Squirrel Hill Post Office in Pittsburgh, Pennsylvania. Furthermore, we did secondary research to get a holistic picture of the usage of kiosks in the United States. Our research included -
We spent some time observing people using the kiosk and also interacting with the kiosk & mobile application ourselves to understand the options available and the steps involved.
We conducted informal interviews with 5 customers and 1 post-officer and asked them about the frequency, need, and experience of using the kiosk.
We looked at online public forums where people expressed their concerns and experiences with the self-service kiosk at the Post Office. Source
Through the scope of the project, we focused on the experience of shipping a package. The current user journey for shipping a package via a self-service kiosk can roughly be broken down into 8 steps as shown below. Here we found that there is a very limited connection between the mobile and kiosk experience.
Broadly, self-service kiosks can be used to weigh packages, print shipping labels, buy stamps, drop off or return packages. Self-service kiosks appear to be a boon as it cuts out long cues and is even accessible after hours. But, the process of using the kiosk is long and non-intuitive. The following sections cover some of the current user pain points that we found in the context of kiosk and mobile.
Long process with dead ends
A simple process of printing a shipping label takes at least 20 user actions in the kiosk. During the process, there are multiple dead ends. The above-shown step occurs around after 14 actions, wherein if the user chooses the wrong option, they are sent to the home page, losing their entire progress.
Non-descriptive shipping options
The choices available to the users for the type of shipping options are non-descriptive in nature and are often difficult to decipher and differentiate. While the USPS website offers a complete guide and glossary to understand the meaning of different terminologies, it is really disconnected from the user experience.
Only one stamp, no browsing
While the USPS offers various different themed stamps, a person can buy only one kind of stamp from the kiosk and there is no way to browse another kind of stamp. Additionally, the users may purchase a minimum of 2 stamps from the kiosk, wherein the payments can only be made using digital payment methods.
The app itself has very limited functionality and can only primarily help the users in creating their labels and accessing the tracking information. Also, 90% of the options on the home page redirect to the mobile website.
Doesn't support novice users
For someone who is unaware of the dimensions and the weight of their package, the shipping label can not be generated without going to the post office and thus making the app functionality close to zero.
Long Manual Information Fields
While the app allows users to check prices or locations in addition to printing shipping labels, the process is long and requires users to enter numerous information points while sometimes facing issues in finding addresses.
The pain points across mobile and kiosk led us to the top four opportunities -
Based on the identified pain points and opportunity areas we redefined our project brief -
How might we create a more humanized, efficient and comprehensible USPS customer experience utilizing a conversational user interface?
We named our voice assistant Hugo. Hugo means "mind, intellect" and is easy to pronounce in different accents while resonating with the phrase "USPS Go".
Different forms of Hugo were explored ranging from abstract to concrete. Some of the keywords that were associated with form ideation were - Paper, Bird, Fly, Plane, Mail, Flexible, Speed, Friendly, Lively, Simple, Agile, Playful, Geometric. The final Hugo form was chosen because of its simplicity, correlation with the existing USPS logo, and various possibilities of clean and playful motion.
Hugo is friendly, dependable, and intelligent in nature and is well equipped to understand user needs and provide efficient assistance as per need.
Welcoming and personable image, approachable
Expedite shipping experience & other services
The most reliable package delivery service
Awareness & anticipation of user's next step
In order to design conversations, we first understood how conversations work. We looked at different conversation types and the relationship between the user and an assistant. We relied on the conversation model by Paul Pangaro to further define Hugo's behavior and conversation style. Source
A sets Goal & decides Means
B executes Means
A sets Goal & negotiates Means
A and/or B executes Means
A sets Goal
B decides & executes Means
A+B decide Goal
B decides & executes Means
We outlined the new journey for the users and then defined the role Hugo could play at each step in assistance. Here we started including some of the new features such as reminders and suggestions as part of the journey as shown -
We further went into the details of the journey and wrote down possible scenarios for two different types of users. Here we categorized Hugo responses into eight broad types to form a consistent voice throughout.
Through the scenarios, we understood the different types of states that would be useful and meaningful for the voice assistant.
For the identified key states of Hugo, we explored different motions to portray their meaning as clearly and intuitively as possible. Here is the final motion matrix representing all 8 states of Hugo varying from ignorant to perceptive and indifferent to compassionate.
Mobile & Kiosk Integration
To create a consistent experience across mobile and kiosk, we re-defined the visual elements. While retaining the basic elements like typography and primary blue of USPS, we refined other elements like icons, buttons, and cards.
We kept a similar structure for mobile and kiosk, where the major portion of the screen is given to the task at hand the actions users need to take. We decided to keep the user's dialogue upfront to give users feedback about how their dialogues are being captured in real-time, whereas Hugo's dialogues are summarized as action unless there is an error in understanding user dialogue.
Here are the nine features highlighted through the scenario of Jane using USPS service to ship a package and buy some stamps.
Hugo is connected to the user's calendar and based on upcoming events and past behavior shares personalized reminders. It further advises customers on possible future delays due to weather conditions and holidays.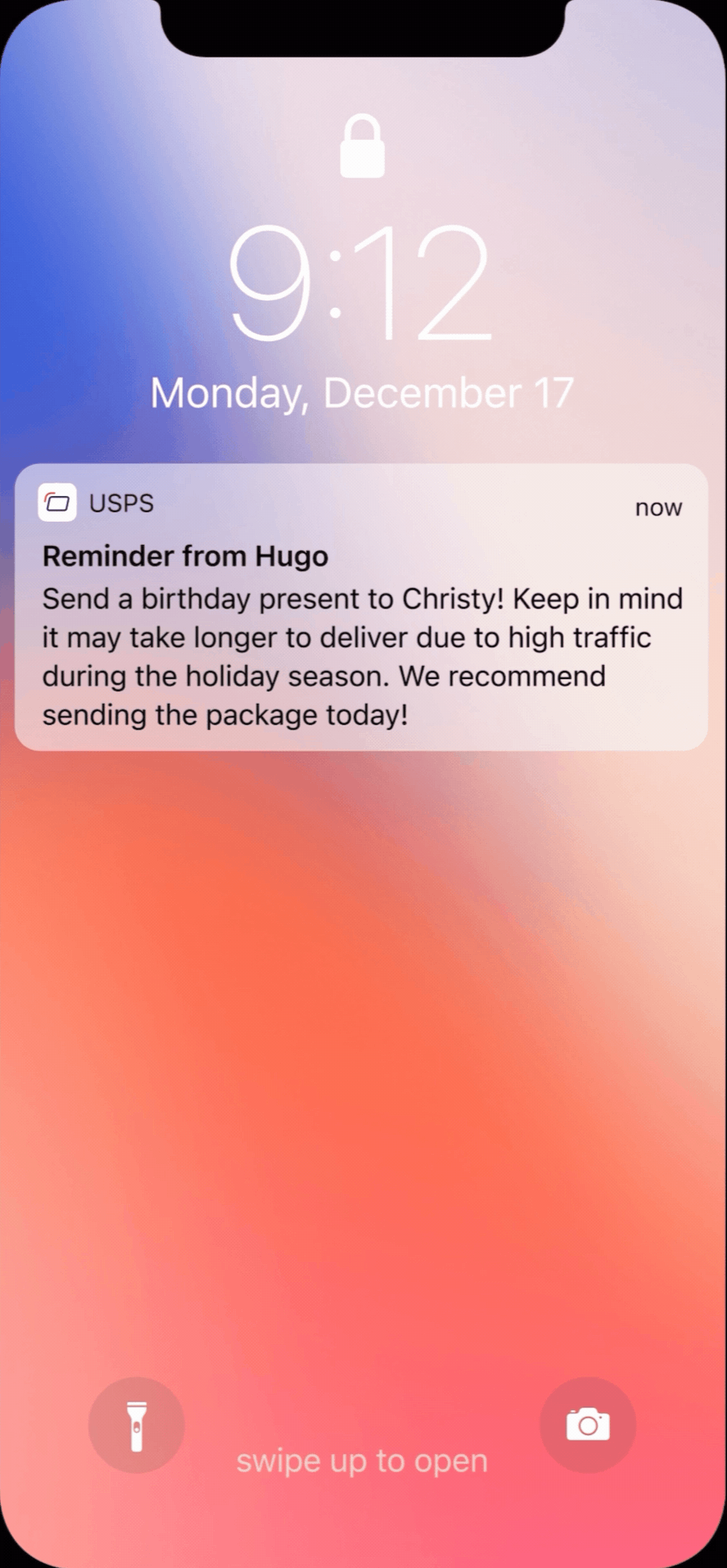 Hugo syncs USPS with other user accounts like iCloud and contacts to auto-fill information and provide more meaningful options to the users so that users don't have to manually fill all the details.
At any point in the journey, if Hugo is unable to understand the user's dictation, it shows the user what it is heard, giving users timely feedback and a chance to reattempt their command.
Hugo simplifies the process for novice users by shortlisting their options based on an intelligent estimation and valuation of their package items. Based on what they are sending it can suggest box size and box type needed to save them both time and money.
Based on the user requirements and estimation, Hugo suggests three shipping options - Best, Fastest, and Cheapest using AI technology. They are based on what is more important for the user - speed, cost, or other preferences.
Personalized Recommendations
Hugo informs customers of the next steps in their tasks and activities based on location. For example, it can open call-out cards to remind users about picking the right box at the post office or making the QR code handy for kiosk login.
Hugo can understand several requests from a single command by the user and thus can reduce the number of steps required to complete the task.
Finally, Hugo can enable quick and easy sharing of tracking details to the relevant people receiving the package via users' synced contacts with a single voice command.
Personalized Recommendations
We acknowledge that the use of voice interaction with kiosks in public places might be a privacy concern. While we attempted to mitigate the effects using integration with mobile, this is an area that needs further research.
Conversation states can be further expanded to accommodate and handle different user responses and error states. Moreover, understanding the limit where technology is considered helpful vs invasive.
The multi-modal nature of the system creates opportunities to design for accessibility. Further explorations and usability testing can be done to reach specific accessibility standards within the platform.