Today, many museums face the challenge of transitioning from rigid institutions to experiential and flexible spaces. You have been tasked to improve the museum experience, which has remained relatively static for the past decade.
Aro-Bird is an immersive multi-sensory experience for the Carnegie Museum of Natural History that evokes empathy towards endangered bird species through interactive storytelling and experiential learning.
Anupriya Gupta, Chen Yu Chiu, Juwon Lee
Research, Conceptualization, Prototyping, Technical Feasibility, Video Editing
5 Weeks | CMU Interaction Design Studio Fall 2021
Adobe Aero, Lens Studio, Spark AR, Teachable Machine + P5.js, After Effects, Audition, Figma
The journey with Aro-bird involves active user participation in crafting their own origami birds and browsing information through Augmented Reality to spark conversations about the impact of human activities on birds to create awareness. Here is a quick glimpse of a scenario with Aro-Bird.
Carnegie Museum of Natural History
Carnegie Museum of Natural History, one of the four Carnegie Museums of Pittsburgh, is among the top natural history museums in the country. It maintains, preserves, and interprets an extraordinary collection of artifacts, objects, and scientific specimens used to broaden understanding of evolution, conservation, and biodiversity. Carnegie Museum of Natural History generates new scientific knowledge, advances science literacy, and inspires visitors of all ages to become passionate about science, nature, and world cultures.
We visited various exhibitions within the Carnegie Museum, and three particular exhibits that caught our interest were the Monster Fish, Bird Hall and the Hall of American Indians.
Monster Fish: In Search of the Last River Giants, is an exhibit by the National Geographic Society. Enormous in size but rapidly dwindling in number, these ancient fish play critical roles in their freshwater habitats. The immersive exhibition includes life-size sculptures of monster fish across Amazon, Aisa and others.
Bird Hall features more than 300 taxidermy mounts and study skins of birds that range from tiny hummingbirds to massive Golden eagles. It has an array of birds collected over two centuries that illustrate many topics like Endangered and Extinct Species, Flightless, Tropical Rainforests and Birds of Paradise.
The hall explores 4 distinct Native American cultures in an exhibition organized around their relationships with the natural world. It houses the contemporary cultures of societies living in: Tlingit of the Northwest Coast, Hopi of the Southwest, Lakota of the Plains, and Iroquois of the Northeast.
Bird Hall is located on the third floor of the Carnegie Museum and features an array of birds. According to an internal study conducted Carnegie Museum of Natural History in regard to the visitor observations at exhibits in different galleries in Fall 2019, the average number of visitors per 40min who visit the Bird Hall is 66.89. This shows that despite being present on the third floor of the museum, the exhibit is quite popular. From our initial visits we observed that while the hall is popular, people often pass by quickly, using it as a connection between other exhibits. Noting a huge potential to create a more immersive and engaging experience, we set out to explore the Bird Hall further.
We conducted primary research at the Carnegie Museum of Natural History in Pittsburgh, Pennsylvania. In our research, we talked with -
As a class we met Nicole Heller, Associate Curator of Anthropocene Studies for Carnegie Museum of Natural History to understand the thought process behind current exhibits, their future goals for the museum and the challanges they face today.
We conducted observational study in museum to understand the interactions and behviours of different visitors. We further conducted 5 Interviews with people who visited the bird hall and understood their perspectives about the hall and asked them about their experience.
Lastly, we interviewed two staff researchers in the bird exhibit to understand their view points about the exhibit and the visitors. We also got the opportunity to visit the bird collection, not open to visitors, at the museum which is used for research and storage of birds not on display.
Long process with dead ends
A simple process of printing a shipping label takes at least 20 user actions in the kiosk. During the process, there are multiple dead ends. The above-shown step occurs around after 14 actions, wherein if the user chooses the wrong option, they are sent to the home page, losing their entire progress.
Non-descriptive shipping options
The choices available to the users for the type of shipping options are non-descriptive in nature and are often difficult to decipher and differentiate. While the USPS website offers a complete guide and glossary to understand the meaning of different terminologies, it is really disconnected from the user experience.
Only one stamp, no browsing
While the USPS offers various different themed stamps, a person can buy only one kind of stamp from the kiosk and there is no way to browse another kind of stamp. Additionally, the users may purchase a minimum of 2 stamps from the kiosk, wherein the payments can only be made using digital payment methods.
The app itself has very limited functionality and can only primarily help the users in creating their labels and accessing the tracking information. Also, 90% of the options on the home page redirect to the mobile website.
Doesn't support novice users
For someone who is unaware of the dimensions and the weight of their package, the shipping label can not be generated without going to the post office and thus making the app functionality close to zero.
Long Manual Information Fields
While the app allows users to check prices or locations in addition to printing shipping labels, the process is long and requires users to enter numerous information points while sometimes facing issues in finding addresses.
The pain points across mobile and kiosk led us to the top four opportunities -
Based on the identified pain points and opportunity areas we redefined our project brief -
How might we create a more humanized, efficient and comprehensible USPS customer experience utilizing a conversational user interface?
We named our voice assistant Hugo. Hugo means "mind, intellect" and is easy to pronounce in different accents while resonating with the phrase "USPS Go".
Different forms of Hugo were explored ranging from abstract to concrete. Some of the keywords that were associated with form ideation were - Paper, Bird, Fly, Plane, Mail, Flexible, Speed, Friendly, Lively, Simple, Agile, Playful, Geometric. The final Hugo form was chosen because of its simplicity, correlation with the existing USPS logo, and various possibilities of clean and playful motion.
Hugo is friendly, dependable, and intelligent in nature and is well equipped to understand user needs and provide efficient assistance as per need.
Welcoming and personable image, approachable
Expedite shipping experience & other services
The most reliable package delivery service
Awareness & anticipation of user's next step
In order to design conversations, we first understood how conversations work. We looked at different conversation types and the relationship between the user and an assistant. We relied on the conversation model by Paul Pangaro to further define Hugo's behavior and conversation style. Source
A sets Goal & decides Means
B executes Means
A sets Goal & negotiates Means
A and/or B executes Means
A sets Goal
B decides & executes Means
A+B decide Goal
B decides & executes Means
We outlined the new journey for the users and then defined the role Hugo could play at each step in assistance. Here we started including some of the new features such as reminders and suggestions as part of the journey as shown -
We further went into the details of the journey and wrote down possible scenarios for two different types of users. Here we categorized Hugo responses into eight broad types to form a consistent voice throughout.
Seamless and simple entry into interactive exhibitions.
Mobile & Kiosk Integration
To create a consistent experience across mobile and kiosk, we re-defined the visual elements. While retaining the basic elements like typography and primary blue of USPS, we refined other elements like icons, buttons, and cards.
We kept a similar structure for mobile and kiosk, where the major portion of the screen is given to the task at hand the actions users need to take. We decided to keep the user's dialogue upfront to give users feedback about how their dialogues are being captured in real-time, whereas Hugo's dialogues are summarized as action unless there is an error in understanding user dialogue.
Here are the nine features highlighted through the scenario of Jane using USPS service to ship a package and buy some stamps.
Hugo is connected to the user's calendar and based on upcoming events and past behavior shares personalized reminders. It further advises customers on possible future delays due to weather conditions and holidays.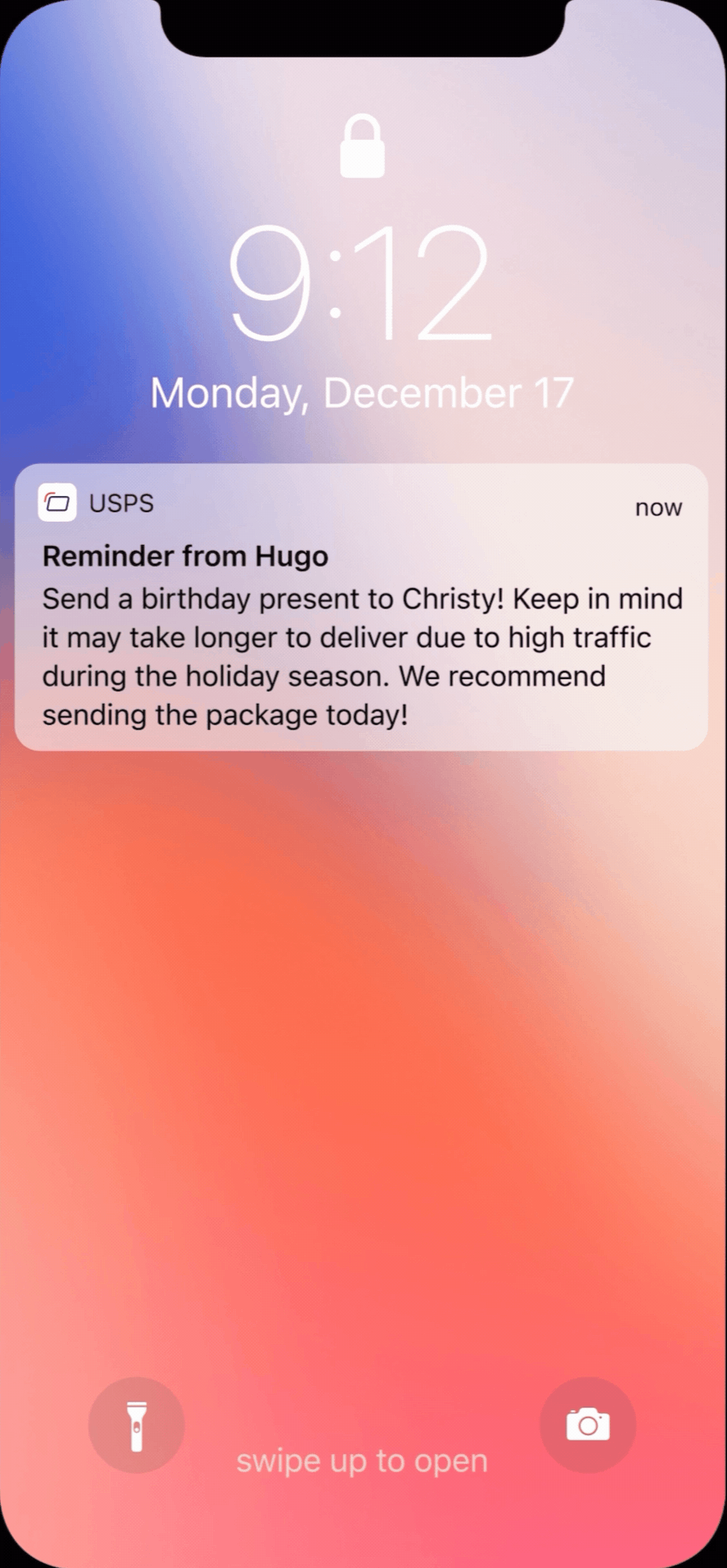 Hugo syncs USPS with other user accounts like iCloud and contacts to auto-fill information and provide more meaningful options to the users so that users don't have to manually fill all the details.
At any point in the journey, if Hugo is unable to understand the user's dictation, it shows the user what it is heard, giving users timely feedback and a chance to reattempt their command.
Hugo simplifies the process for novice users by shortlisting their options based on an intelligent estimation and valuation of their package items. Based on what they are sending it can suggest box size and box type needed to save them both time and money.
Based on the user requirements and estimation, Hugo suggests three shipping options - Best, Fastest, and Cheapest using AI technology. They are based on what is more important for the user - speed, cost, or other preferences.
Personalized Recommendations
Hugo informs customers of the next steps in their tasks and activities based on location. For example, it can open call-out cards to remind users about picking the right box at the post office or making the QR code handy for kiosk login.
Hugo can understand several requests from a single command by the user and thus can reduce the number of steps required to complete the task.
Finally, Hugo can enable quick and easy sharing of tracking details to the relevant people receiving the package via users' synced contacts with a single voice command.
Personalized Recommendations
Making origami act as simple and affordable AR system controls for the museum to extend the digital experience to other birds and exhibits.
Enriched Multi-Sensory Experience
Engage more senses such as the use of feather texture paper for origami, physical installation at the end or 3D surround sound.
Allow unlocking AR content by scanning origami after the visit to continue the conversation about endangered birds with friends and family.